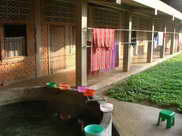 register, you will be assigned a room in the men's or women's dorms.
Each dorm is a square of about 50 connected concrete rooms around a central grassy area which is open to the sky.
The walkways around the rooms to the toilets are covered and don't get wet except in severe weather.

You will collect a mosquito net and blanket from one of the storage rooms, with each room having a bag which is left in the storage room when you take the items with you.
Your room is about 3 metres square with a door, a shuttered window, a concrete ledge approximately 1 metre off the floor a 1 metre wide which serves as the bed
It will also contain a straw mat, a wooden pillow, a wire to hang clothes along with hangers and maybe some pegs, and possible a creepy-crawly or two.
There is also a wire for hanging clothes to dry outside your room, though some rooms in corners and near to the mandis don't have one and have to share.
There is more clothes hanging space in the central grassy area.
There is no fan and it's not really needed. Air circulates through the air-bricks which make up the top metre of the walls, and also let through sounds of your neighbours during the night.
Sleeping with the window open helps cool the rooms a little more, but does nothing for any noise.
Electricity is only on from dusk until lights out, then from wake-up until dawn. There is only a light switch in the room - there is no power socket.
A solid-looking padlock is provided.