Everyone who attends the retreat, or works there, or provides and teaching or assistance is refered to as a 'friend', a 'Dhamma friend' or a 'good friend'.
People who have attended previous retreats are refered to as 'old friends'.
Friends that you may encounter on a retreat include: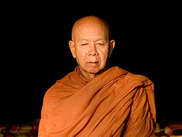 Ajaan Po
The abbot of Wat Suan Mokkh who, at nearly 80 years old, still plays an active role in the retreats. He will give talks at various times, and will sometimes silently attend a group meditation session, adding to it with his presence. His style of talking can be difficult for some as he has a strong Thai accent and tends to speak slowly with lots of repetition, but with concentration he can be understood. He is available for personal interviews from day 3 and generally offers quite straight advice along the lines of: keep meditating, keep concentrating, and don't be distracted by ego thoughts of me, I and my.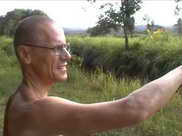 Taan Dhammavidu
An English monk who must be in his late 60s from the stories he recounts, and has been at Suan Mokkh for over 15 years. He gives most of the Dhamma talks and talks in detail about the framework of the Anapanasati style of meditation. He's been around a bit, having a full life which has included spending time in India and the usual indulgences of the 60s. Though he can be quite cynical at times and does not believe in mincing his words, his talks are filled with humour and wit and there are usually lots of giggles when he is speaking. He hosts some lunchtime question and answer sessions, and is available for personal interviews where he will talk openly on spiritual matters, rather than keeping to Buddhist doctrine.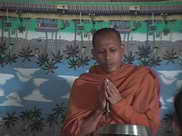 Taan Mehdi
A Thai monk from Chaiya who could be about 40 years old, having been at Suan Mokkh since he was about 20. He hosts the chanting and other talks during the retreat, and makes them fun. Though his English is not perfect, he is easily understood and is able to laugh and joke, which can be invaluable on days when the attendees are struggling. He is a big fan of the wooden pillow and will extoll its virtues at length, which is all part of his humour.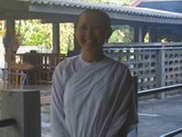 Mair Chee Aree
Nun Aree conducts a number of the talks on the retreat as well as giving meditation instructions and some wonderful guided meditations over the early days of the retreat. She is also available for personal interviews and her English is easily understood.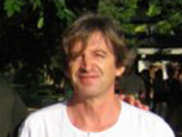 Khun Werner
A German who acts as a facilitator on many retreats, running yoga classes and being available for questions or problems in the dorms. He's been at Suan Mokkh for at least three years, though is not ordained as a monk and is an unpaid volunteer. His English is excellent and he's an approachable helpful person.
Khun Reinhard
A tall, skinny German who also acts as a facilitator on many retreats, running yoga classes during which he provides a excellent guided relaxation which is often commented on. His English is also excellent, and he comes across as someone who is very comfortable with himself and his life.